a
suitcase and using a loop magnet antenna is described in the reference

[5]

.

Fig. 6

shows the circuit and design of the loop antenna. It was used two magnetic loop antennas, M1 and M2. Lengthening coils are switched in serial with each loop antenna

 

(L1 to M1 and L2 to M2), necessary for exact tuning of the loops to frequencies range needed. Both, Ě1 and Ě2 are used at LW. When the loop works at MW, M2 is shortened, and only M1 does receiving.
Magnetic antennas M1 and Ě2 have sizes 315ő245 millimeters, M1 contains 14 turns of Litz wire 30x0,06, M2 contains 50 turns  of Litz wire 15x0,05. As a last resort, instead of a Litz it is possible to use a copper insulated wire in diameter of 0,15 millimeters.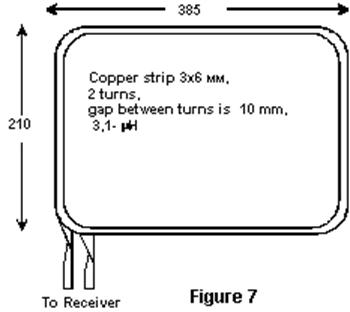 Figure 7 SW magnetic loop antenna
Lengthening inductor L1 contains 50 turns, lengthening inductor L2 contains 125 turns, the wire is Litz 15x0

,05

. These inductors are reeled on a form in diameter of 8 millimeters. The width of winding is 7 millimeters for both inductors.
Short Wave Magnetic Loop Antenna
Magnetic loop antennas were used not only for LW and

MW,

also the antennas were used for SW. For example, in the reference

[5]

it was described a SW magnetic loop antenna which was used for 19-75 meters. The loop antenna was simultaneously the input circuit of the receiver. A variable capacitor 12x500-pF does tuning to a resonance of the loop.

Fig. 7

shows design of the antenna.
The antenna is made of a copper strip 6x3 (width in 6 millimeters, thickness in 3 millimeters). Such strip is used for winding welding transformers. The loop antenna contains 2 turns, the distance between the turns is 10 millimeters, inductance of the magnetic loop is 3

,1

-μH.
References:
1.

 

Schegolev

 

Ĺ

. I. Radionavigation. Moscow, GITTL, 1946.
2..
Sheinman A. Z.

 

A collective- farm broadcasting center. Moscow, Zhurgazob'edinenie, 1938.
3.

 

Atabekov G. I.

 

Linear electric circuits. Moscow, Energy, 1978.
4. Amateur Battery Radio Receivers. Moscow, MRB, Gosenergoizdat, 1950.
5. Troickiy L. V. Circuits of Amateur Receivers. Moscow, MRB, Gosenergoizdat, 1956.
73! I.G.