It is a bit easy to check the matching antenna that is fed through a two wires open line.
In this case an RF voltmeter on the ATU output terminals would show matching of the antenna with transmitter.

Figure 8

shows the tuning. By the way usual neon lamp with a serial capacitor (1- 2 pF) may serve like the RF voltmeter. At maxima RF voltage on the output terminals the SWR at transmitter output would be low.
Since all ATU capacitors are working in the resonance mode they need a large gap between the plates because of the high RF voltage that is present when operating. If the spacing is too close, arcing is likely to occur.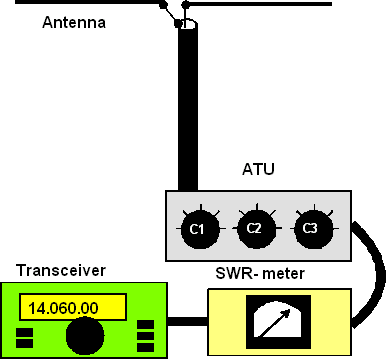 Figure 7
System Transmitter- SWR Meter- ATU- Antenna
Spacing should be no less than 0.5 mm for 50 watts going to the ATU. If they do break down on transmission, it may be necessary to avoid tuning the capacitors to total resonance. However, this will reduce the effectiveness of the ATU. It is also necessary to use high-quality variable capacitors with good contacts on the rotor. This is important to the usage of the ATU on the upper amateur HF ranges. An air variable high-voltage capacitor, C2, may be used with the capacity range of 10 to 200 pF for the ATU. It allows the reduction of the dimensions when the ATU is constructed. In this case it becomes necessary to use a two-pole three-position switch instead of the S1 toggle switch. The schematic for this ATU is shown in

Figure 9

. In this ATU the C4 and C5 should be selected for operation in the ranges of 3.5-1.9

MHz.

For 5 MHz band should be added additional pole on the switch.
Figure 8
Adjusting the universal ATU with Antenna Feeding through Two Wires Line