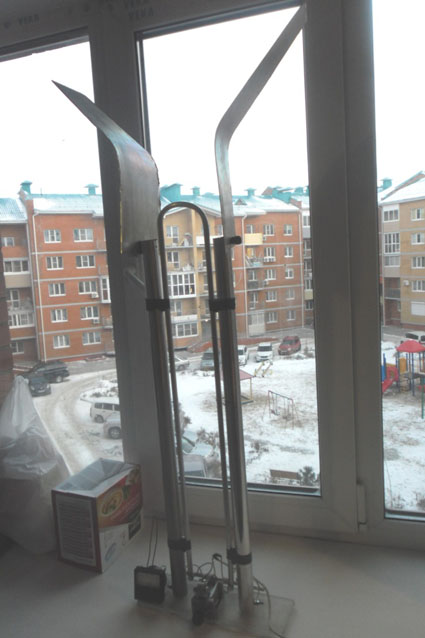 Figure 4
Experimental Window Antenna Installed at my Window
Distance between the radiator and the matching loop should be set up on the same reading of the FSM (Field Strength Meter) placed on both sides at the antenna. The FSM should have a loop antenna. Figure 4 shows one early sample of the antenna installed at my window, FSM is located at left side of the antenna as well you can see a brass tuning rod inside the matching coils and the tuning capacitor.
Caution: High RF currents flow on the parts of the antenna. CFL bulb glows near the antenna. So you need avoid touch elements of the antenna and place the antenna as far as possible from transceiver and operator. In my case the antenna is placed on the distance of 5- meter from me.
The antenna installed on the fourth floor of a multistore building allows me be on the Air. The antenna is open for further experimenters ever. Do not hesitate do it!
73! R0CBK