ANTENTOP- 02- 2010, # 014
Underground Antennas in Russia
Igor VE3KAO
When I served in the Soviet Army I had contact with a military radio station that was used such Underground Antennas. The station was from Sverdlovsk (now Ekaterinburg). My station was near Moscow. (I.G.: Distance Moscow- Sverdlovsk is 1800 km.)  We used band 3.0- 6.0 –MHz at the winter and 4.0- 8.0- MHz at the summer. The station with Underground Antennas was heard by S5- S6. When the station was used the usual stationary antennas it came to us by S9+.
I asked the chief of the radio- center about the Underground antennas. He told me that he saw how the antennas were installed. It was thick coaxial cable that was buried in trenches in 2.5- 3.0- meter depth…
yl2gl
The Underground Antennas were at the receiving radio- center where I was served (in the Soviet Army). There were symmetrical antennas. The antennas were reserved ones that supposed to be used at emergency situation (at nuclear war)...
UA9FBQ
I took part at installation of the Underground Antenna… It was coaxial cable (looks like) near 10-cm in diameter. The coaxial cable was buried on 50-cm into the ground. I used the antenna with a transmitter "OKUN". The antenna matched well but the efficiency was low. The antenna was tested up to 6- MHz.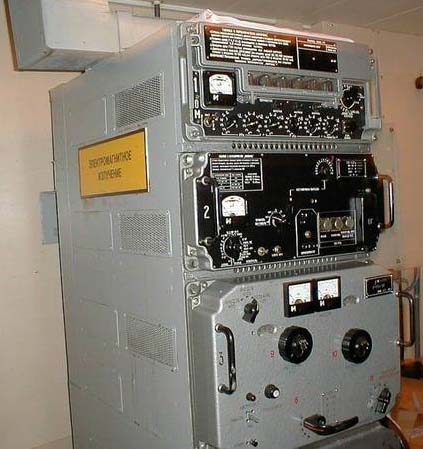 Okun:
Frequency Range: 1.5- 24.0 – MHz
Mode: CW (A1, 1-kWatt), SSB (J3E, 500- Watt)